This year, back-to-school looks a little (or a lot) different due to the pandemic. It's always a stressful time no matter what, but since many school districts are starting the year with virtual classes, homeschooling will be adding to the stress for a lot of families.
Whatever your situation might be, a little organization goes a long way toward making life a tad easier on you AND your kids. If you're setting up a makeshift classroom at home, whether it's at the kitchen table or in a spare room, the right storage and organizing products can help keep schoolwork, supplies, and your sanity in check! (And bonus: they can all be repurposed elsewhere in your home when in-person classes resume.)
Must-Have Organizing Products for Homeschooling
1. Create Easy, Portable Storage with a 3-Tiered Rolling Cart
A rolling cart is like having a portable locker at home. It's great for storing your kids' most-needed supplies, books, and schoolwork-in-progress. The best part is that you can easily roll the carts out of the way (or out of sight) when the school day is done!
2. Customize an Affordable Storage System with Multi-Purpose Bins
We'll never stop singing the praises of multi-purpose bins! These organizing powerhouses are inexpensive and come in multiple sizes, so you can mix them up to create the storage you need. Paper, notebooks, art supplies, activities, you name it – use these bins to keep items neatly stored and at-the-ready. Add labels for an easy-to-maintain system!
3. Divide and Conquer with Cubby Shelves
For kids' spaces, you can't go wrong with cubby shelves. They're super popular for a reason! Their design lets you easily categorize items however you want: by subject, by type, or even by kid. Combine them with the multi-purpose bins, and you've got yourself a perfect homeschool storage system.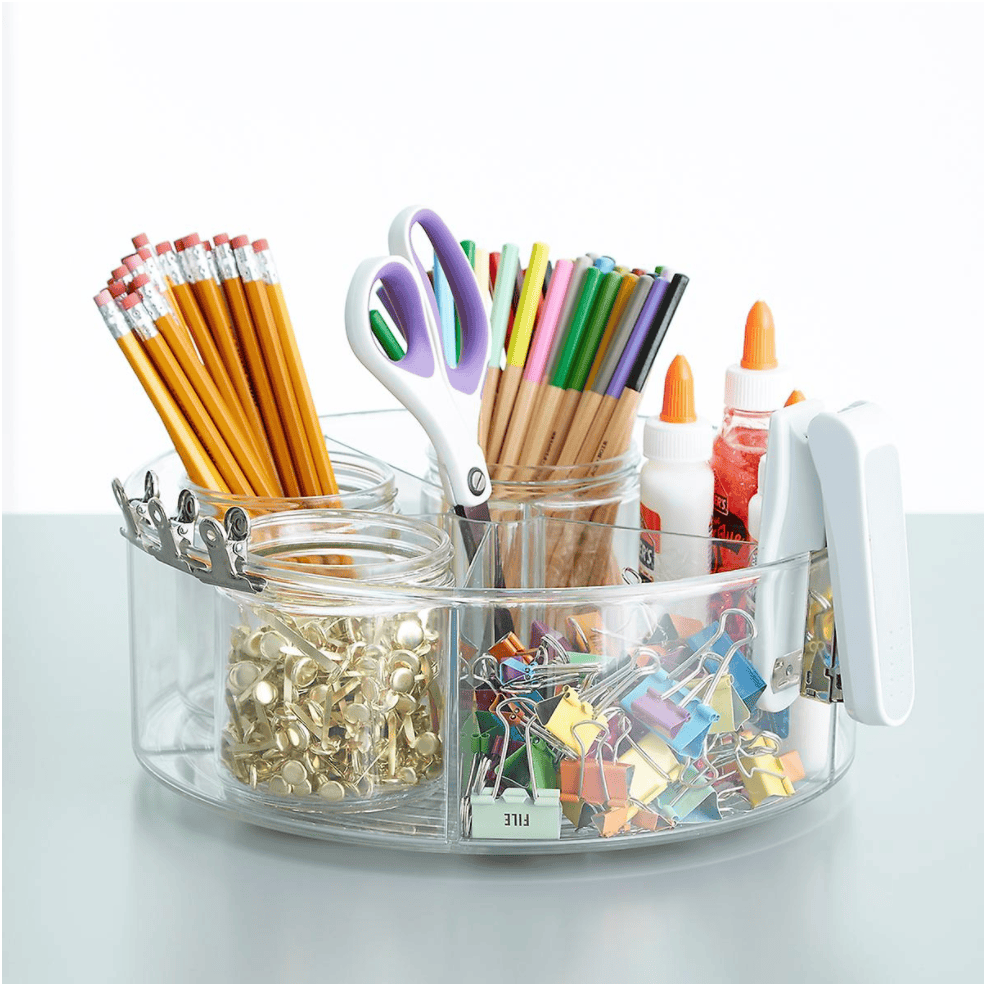 4. Keep Important Supplies within Reach with a Divided Lazy Susan
When your kitchen table becomes your kids' school desk, a divided lazy susan is a great solution for keeping pens, pencils, markers, and other supplies contained, organized, and easy to reach.
5. Banish School Paper Pile-Ups with File Boxes
Schoolwork, artwork, and other important papers pile up quickly during the school year. You can prevent those messy piles by setting up a file box for each of your children. Use hanging file folders to create categories and simply drop the keepers in their spots. Watch this clip of Sara on Studio512 for more tips on storing kids' papers!
If you need support getting organized for the school year, we'd love to help! Check out our in-home organizing packages or our virtual organizing service.